Pictures
Click any thumbnail to view a larger scale image.
| | |
| --- | --- |
| | Deir Yassin as seen from Yad Vashem; the village lies in the green trees to the right of the water tower. |
The Village 50 Years Later
Windows on Deir Yassin
Scenes from inside the center of Deir Yassin, December 1996
Daniel McGowan (Director) and Issam Nashashibi
Daniel McGowan, Archbishop Michel
Sabbah, and Khairieh Abu Shusheh (Conference
Coordinator)
Sahar Ghosheh (Conference Coordinator)
A View From Yad Vashem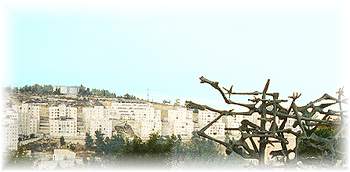 It is unfortunate that so few Palestinians visit Yad Vashem. Understandably, many argue that they were not involved in the Holocaust and resent hearing again about Jews as victims of Nazis when the whole world has so long failed to recognize Palestinians as victims of Zionists. Many also believe that the Holocaust was (mis)used as a justification or rationalization for the creation of the state of Israel and for the conquest and confiscation of their homes and villages. Nevertheless, it is unfortunate because from Yad Vashem, looking north, is a spectacular panoramic view of Deir Yassin. The Holocaust museum is beautiful and the message "never to forget man's inhumanity to man" is timeless. The children's museum is particularly heart wrenching; in a dark room filled with candles and mirrors the names of Jewish children who perished in the Holocaust are read along with their places of birth. Even the most callous person is brought to tears. Upon exiting this portion of the museum a visitor is facing north and looking directly at Deir Yassin. There are no markers, no plaques, no memorials, and no mention from any tour guide. But for those who know what they are looking at, the irony is breathtaking.