Reviews of Susan Abulhawa's Novel,
The Scar of David
Behind the creation of Israel is a wound that after six decades continues to fester and refuses to heal. It is a wound that mocks the myths of "making the desert bloom," of a "land without people for a people without land," of a "purity of arms," and other lies on which "the Jewish state" was founded. That wound and the horrible scar it continues to leave behind are the Palestinian people and the history of their dispossession.

Of all the books on the market today, most of which are ignored by the mainstream media, The Scar of David is the finest piece of historical fiction to meticulously and artistically describe the Palestinian narrative. Even a reader who has never been to Palestine can see the spring flowers on the hills, smell the honey-apple tobacco, and drift with the haunting rhythms of Abu-Hayyan and Khalil Gibran.

The author, who grew up in Palestine and who now is an American, does not hesitate to call a Jew a Yahood. "They had bombed and burned, killed and maimed, plundered and looted. Now they came to claim the land." But she is by no means anti-Semitic. Her story carefully contrasts the "noble traditions of Judaism" with the perfidy of Zionism and the racism of Jews and non-Jews "determined that this land will become a Jewish state."

The scar remains. After a century of struggling to build a Jewish state, over half the people living within the land controlled by Israel are not Jews. Most are Palestinians "overwhelmed, exhausted, beaten, and broken" and still relying on Allah and on family and on a love for the land. "Nationalism was (and still is) inconsequential."

There is immense pressure in Western educational systems to teach the lessons of the Holocaust. Most American students are required or encouraged to read the novel, Night, by Nobel Prize Winner Elie Wiesel. Yet Holocaust lessons are rarely applied to the continued dehumanization of the Palestinian people. Perhaps one day The Scar of David will be read, not as an antidote, but as a supplement to Night. Although it is not likely to be included in Oprah's Book Club, The Scar of David is a far more accurate novel and a far better read.



Daniel McGowan
Director, Deir Yassin Remembered
Making Stones Weep
by Ron Jacobs
The Scar of David
(Journey Publications, 2006) by Susan Abulhawa is a profoundly beautiful story.
Set in Palestine, this novel transcends the particular history of the Palestinian people since their expulsion from their lands while simultaneously remaining firmly rooted in that experience. Inspired by sources and people as varied as Ghassan Kanafani's short story "Return to Haifa," Hanan Ashrawi and Edward Said, this is a story of a family in Palestine. It is not a sad story, but a painful one. To borrow the words of one of the story's characters, it is a "sweet pain." It is a pain tinged with memory and hope. And questions of why. A pain partially composed by soldiers who somehow find their human compassion underneath the lies, yet continue to fight the war in which they have some doubt. A pain that comes with standing up to resist your oppressor all the while knowing that the things that are most important to you -- your family, your village, and your loves -- will be ripped from you because you do stand up. A pain that also come from knowing that these things may very well be ripped from your existence even if you do nothing.
Abulhawa's descriptions in this novel are as beautiful as the land they portray. Ms. Abulhawa has combined historical panorama and the personal fears, loves, vanities and anger of a young girl viewing a world that is constantly asunder. It is a litany of perpetual war and humiliation; of children born and their parents taken away. Part of the tale is about a child stolen from his mother to become the child of another woman whose past life of torment as a Jewish plaything for the SS finds itself reborn in the actions of her husband and the army he rides with. The stolen child becomes an enemy of his own people and, in a particularly wrenching scene, beats his own brother -- a Palestinian resistance fighter -- until he is held back by another Israeli soldier. Yet, it is his own fear that he is attempting to remove. Her husband is eventually filled with remorse and doubt because he still hears the cries of his "adopted" son's mother after he took her son from her. That remorse is multiplied by the fact that his dream of a safe place for the Jewish people is drenched in blood and misery, theft and lies.
The story truly begins with Dalia, a Bedouin girl who defies conventions established in the village life of Ein Hod. She attracts the eye of a couple of brothers from the village and is eventually married off to one, if for no other reason than to save her father from further embarrassment. As she matures, she sees her adopted village become another piece of the Zionist drive to establish and expand Israel. As mentioned above, her youngest son is stolen by an Israeli officer during the forced march of the villagers from Ein Hod. Her daughter, who will be named Amal, is not even a twinkle in her parent's eyes yet. She will be born a refugee in the Jenin refugee camp and is to be the primary protagonist throughout most of the rest of Abulhawa's tale. Amal means hope, something Dalia eventually loses after so many years of war and oppression. Dalia slips into dementia after so much destruction and despair. Dalia's husband disappears (assumed dead) after the 1967 war and her older son Yousef is forced underground after suffering beatings and torture.
One of those beatings is the one given by his brother who doesn't know that they are brothers. His brother named Ismael by Dalia and her husband Hasan, now named David by the Israeli soldier who stole him and his wife. Ismael, as in son of Abraham. David, as in child of Israel. Within this one child become man are the contradictions of the land they both live on. He is the complexity of human life and the complexity of two peoples claiming the same land. When he finally discovers his past and meets up with his sister Amal, his words are so simple and so poignant: "But love cannot reconcile with deception." This story is two brothers fighting each other. It is Amal's first mysterious menstrual period subsumed by the blood from a bullet fired at her by Israeli soldiers almost as if in sport. It is, as Amal's daughter says near the book's end during a visit to Jenin with her Green Card mother, "imperialism by the inch." Bit by bit, the land is stolen. For highways and settlements. For walls and garrisons.
There is a moment in that visit to Jenin when Amal begins to tell her daughter Sara all that she has kept hidden so that Sara can have a normal American childhood. Sara, hungering for more, asks her mother why she kept this history, this life, from her? In reply, Amal only thinks to herself: "How would she feel if I told her everything else I'd held back?" This novel is exactly that. It is Palestine telling everything she has held back. It is Palestine's mothers and daughters telling everything about their stolen lands and the lives they have lost. The dreams that are discarded before you reach sixteen. The children who are barely children before they become targets of the IDF's guns. If only the world would listen. It is time the story has a happy ending. Or at least a just one.
The beauty in this story is not in its few moments of joy and happiness or its even rarer moments of hope. No, the beauty lies in the stories of a people determined not to die. In a young girl's belief in family and friends. Of a father's hope for his child's future just before his death. Of rage that almost turns to hateful revenge. Of the despair of loss and the fear of more of the same. Love stories that fly over battle and hatred. The beauty lies mostly in how these stories are told. How this story is told. How this story is a story of Palestine. The writing here echoes the finest couplets of Gibran and Rumi. There is an unfathomable emotional depth to the words spoken and unspoken.
Some US critics, no matter what their politician persuasion, will call this book heavy handed and anti-Israeli because in their minds it portrays the story of the Palestinian people in an overly sympathetic and graphic portrait. But, that is where they are wrong. It is only heavy handed if the previous portrayals were too light and not truthful. If there is to be blame for the US populace not understanding the past 60 years of Palestinian history, it should go to the news media in that country and those of us who watch without demanding more. It is to be placed at the feet of those Americans who live their lives denying the nature of the things their government and its surrogates does in their name. If they would only read this novel, perhaps they would begin to understand the rage and the grief, the fear and the sadness that make stones weep. The love that Abulhawa tells us is "where God lives."
The sheer ability of this story to tear emotions from the reader is what the US reader must experience. If they are to know the results of their indifference and their admonitions that "oh, it can't be that bad," they must read this book. Because, yes, it can be that bad. Because, yes, it is that bad.
You can read excerpts of
The Scar of David
by visiting
The Scar of David website.
$28.00 US plus $3.50 shipping and handling.
Waiting For Paradise
A novel by Dan Drost
An entertaining and exciting novel,
Waiting For Paradise
deals with the massacre at Deir Yassin and the ethnic cleansing that it ushered in.
In typical American vernacular the book tells the Palestinian side of 1948 and for that reason it is likely to be shunned by most major presses.
The author has been able to tell the Palestinian narrative of dispossession within an American (Mid-West) vernacular. America is overwhelmingly pro-Zionist and as a result we rarely hear the Palestinian side of how their land was taken in 1948 and 1967 (and continues to be taken) in the quest to build a state where Jews have all the rights of citizenship, but where non-Jews have lesser rights or none at all. The author takes the reader from a prejudiced, bigoted opinion of Arabs to one of understanding, while at the same time upholding the principles of prophetic Judaism (as depicted by Sarah). And he does this with subtlety and with humor.
There are hundreds of historical and political books written on the Israeli/Palestinian conflict; most deal with it from the Israeli point of view. And there are many novels, but again, most (like Exodus) are skewed towards the perspective that Jews have the right to a state of their own and the right to dispossess non-Jews who have lived in Palestine for hundreds of years. However, until
Waiting For Paradise,
there have been no novels where the principal characters are American and which so succinctly describe the current conflict and the mosaic of characters that have blood or religious roots in it.
Drost's work is VERY original and yet, in many ways, it is a description of the metamorphosis of ordinary people raised on Zionist myths (of a land without people for a people without land or the purity of arms or God gave the Jews the land) whose opinions radically change when they learn the truths about 20th century Palestinian history. Many people, Jews and non-Jews, and especially Americans, go to Israel imbued with the half-truths continuously told by Elie Wiesel, Alan Dershowitz, Morton Klein, Dennis Ross, and the majority of political pundits and yet after only a short time living and talking with real Palestinians they become activists for Palestinian human rights. Drost's character, Sean MacNamee, is such a person.
This manuscript is of real importance, not for the history it tells, nor for the action novel it is, but for its ability to tell historical truths to readers at the level of the ordinary American. Sean is a middle-aged neer-do-well, with no particular direction. He survived Catholicism, plays table tennis with Jewish friends at the Temple, is tough but tender, and has no perspective beyond drinking beer, driving an obnoxious SUV, and having sport sex. And yet he becomes interested and goes out of his way to study the Israeli/Palestinian conflict and gets drawn into it on the side of the bad guys. But in telling this tale, Drost is speaking truth to power, and that is of tremendous importance.
It is also noteworthy that Drost moves the reader from serious historical discussion (by Hassan and Sarah) to the light-hearted and even sarcastic moods of Sean and Tim and others with no connection to the Israeli/Palestinian conflict. This is a wonderful technique. It refreshes the reader and allows him/her to rejoin the serious narrative later on. The same radical change of venue allows the reader to share the passion of being a Palestinian and the passion of being a Jew, as when Sean moves from listening to Hassan to chilling out at the temple with Rabinovich and Holly.
Waiting For Paradise
is highly readable and holds the readers attention throughout. It introduces new and unexpected topics (e.g., the Holocaust narrative of Sarah, the Russian connection, the role of Arab Americans who are tired of the Palestinian crap but who are nevertheless sympathetic to the plight of their brethren, the duplicity of el-Haq who raped Hassan's mother, the vindictiveness of Zionist Americans, the pivotal role of Deir Yassin in contemporary Palestinian history). The ending is fantastic and may leave readers in tears. It would be a great movie.
$28.00 US plus $3.50 shipping and handling.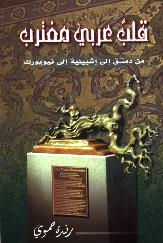 AN EXPATRIATE ARAB HEART

From Damascus to Seville to New York

by Randa Hamwi Duwaji

Language: Arabic

Paperback • 300 pages

Published: Damascus, 2006

ISBN 2-573-59239-1

Also available through

Americans for Middle East Understanding —

[email protected]

Distributor for Arab countries:

Dar Al-Fikr


A Journey of Intellect, Emotion, and Understanding
From birth in Damascus, to despair in Seville, to dilemma in New York, Randa Hamwi Duwaji embarks on a courageous journey of emotion and thoughtful deliberation, tapping the pulse of the Arab nation as she travels through time and space in flowing prose and poetry. After stages of innocence, bereavement, and turmoil that verges on despair, the Arab Heart stops at the crossroads to take its bearings, acknowledging shortcomings and reassessing itself, finding new strength in itself and support in friends- before it strides towards Hope. Blending earlier composition into the new, the author rewrites much of what she had produced in English and published in published in Dubai[1], Washington D.C.[2], New York State[3], and Damascus[4], and poems posted on her website[5]. However, in putting this book together, Randa Hamwi Duwaji undertakes a journey of understanding unlike any other she had ventured upon. While all her previous works spoke in English to the western reader, the author speaks here in Arabic to an audience who identifies this heartbeat as its own, recognizes the need for change, and appreciates the work done on behalf of the Arab cause by its descendants abroad, as well as by dedicated seekers of justice from American, European, and Jewish backgrounds. Furthermore, knowing that she speaks to those who are most affected by the many crises facing the Muslim world today, the author demonstrates through painstaking research how a more precise understanding of the meaning of Qur'anic text can help correct certain misinterpretations and reinstate the original intent of the Arabic verses.

Within its pages, "An Expatriate Arab Heart: From Damascus to Seville to New York" starts with an introduction and 'Beginnings' and describes the difficulties of diplomatic life. It then explains how writing can help deflate crises, recognizing 9/11 as a major crisis affecting the entire Arab and Muslim world. It goes on to convey emotion and thought in 'Introspection', 'Love and Loss', 'Inspiration', and warms the heart with stories on friendship between people of different backgrounds. It touches upon the American dream as experienced in 1904 by the author's great-uncle, and cites New York as a symbolic cross-road to the future, chronicling the writer's experience with the American Arab Anti-Discrimination Committee[6] and involvement with Deir Yassin Remembered[7] and the DYR Memorial in N.Y. State. Interspersed throughout the book are sections of scientific Qur'anic analyses that help understand and discuss several issues, prominent among them are the causes and remedies to the problems facing the Arab-Muslim Culture, filling the void in 'Priorities in Islam', and 'The Marriage Union: Qur'an and Psychology'. The journey of this Arab Muslim heart ends with a few family poems in English for everyone to enjoy.

The cover design is highly symbolic, representative of historic incidents and discussions in the book. The flowing background motif is taken from a mural adorning the Omayyad Mosque in Damascus, its green and gold hues showcasing the Deir Yassin Memorial of New York State[8] in the foreground. The back-cover also has the mural back-drop, with highlighted book reviews in the center and a misty image of the Giralda, Minaret of Seville, above it.

Reviews on the back-cover[9]

"Randa Hamwi Duwaji writes from an Arab heart that has experienced universal suffering and found sustenance in the roots of her motherland- roots that branch out in a spirit of love for humankind everywhere. Upon a global canvas she depicts Man's defamation of Man and the erosion of morals as people stray from core Human values, principles advocated by Monotheistic faiths and confirmed by scholars and sages throughout time. The author delivers an engaging literary exposé as she intersperses poetry with prose in an attempt to discover the meaning of her existence and reveal the true path of Humanity. Her journey is lit with such passion that prose becomes poetry and poetry prose, the intellect whispering in an undertone, surfacing and plunging into depths of the conscious and unconscious. It is an authentic personal experience in every sense- or more precisely, the experience of an entire nation as it searches for itself within the global horizon, a horizon that consists of both good and evil."


Abdullah Abdel-Daim, Ph.D.

"It is remarkable to tap the pulse of an expatriate Arab heart as it travels through time, composing music that overflows with notes of humble devotion and divine love. Spending hours with Randa Hamwi Duwaji's words that sparkle with the spirit of her Arab and Muslim heart as they sing to its rhythm, I found her serenade to loved ones especially moving in its purity and sincerity. I pray to God that her endeavor helps shape the future to the best of aspirations for the children of tomorrow."


Zahra Abdel-Wahed

$15.00 US plus $3.50 shipping and handling.


---
[1] The Winds of Time, 1991

[2] Heartbeats in the Wind: Reflections of an Arab Woman, 2002

[3] Never Again Shall We Forget, 'Len Nensaa!' 2003

[4] For the 2004 Frankfurt Book Fair, "My Heart Beats in Deutschland"

[5] www.randahamwi.com

[6] www.adc.org

[7] www.deiryassin.org

[8] The bronze sculpture of an uprooted olive tree symbolizing Palestinian dispossession, by Khalil Bendib: www.studiobendib.com.

[9] Translated here from Arabic.


Israel and Palestine
Out of the Ashes
The Search for Jewish Identity
in the Twenty-first Century
Marc H. Ellis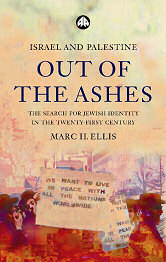 ". . . a superb account of post-Holocaust understanding, with particular reference to the Palestinian people and the moral obligation of Israelis and diaspora Jews. He is a man to be listened to with respect and admiration."
Edward Said
". . . a vital contribution to solving one of the few remaining intractable problems of our time."
Archbishop Desmond Tutu
"Marc Ellis has demonstrated great courage, integrity, and insight in the very important work he has been doing for years. It has been an inspiration for all of us."
Noam Chomsky
"A breath of fresh air, in a heavily polluted debate, by a self-respecting American-Jewish theologian."
Afif Safieh, Palestinian General Delegate to the United Kingdom & The Holy See
". . . stands in a deeply honoured and disturbing Jewish tradition of prophetic thought and action."
John Gladwin, Bishop of Guildford & Chair of Christian Aid
"Marc Ellis has done a service to people of all faiths with this book. I hope it will be very widely read."
The Very Revd. Nicholas Frayling, Dean of Chichester
"In the end after the theology and the maps, the accusations and the questions, I simply cannot bequeath this inheritance to my children: that at the heart of Jewish history is violence and atrocity; that the essence of the Jewish witness is carried by helicopter gunships."
Published by Pluto Press. $10.00 US plus $3.50 shipping and handling.
Remembering Deir Yassin
For Palestinians,
the 1948 massacre by Irgun and allied Stern Gang soldiers of more than 200 residents of Deir Yassin, a tiny village near Jerusalem, resonates sharply as a focal point of history. The dead victims almost all women, children and old men became irrefutable evidence of the consequences for Palestinians of the creation of the new Jewish state. The resulting forced exile of over 750,000 Palestinians in 1948 over two million scattered in a far-flung diaspora today remains at the heart of the Israel-Palestine conflict. Remembering Deir Yassin brings together Palestinians and Israelis, Jews, Muslims and Christians, Jewish theologians and Palestinian priests, to reflect on the fifty-year legacy of Deir Yassin. $20.00 US plus $3.50 shipping and handling.
The Saga of Deir Yassin
"The Saga of Deir Yassin" focuses on the study denying the Deir Yassin massacre issued in May 1998 by the Zionist Organization of America. Dan McGowan and Matthew Hogan dissect the evidence and show that any fair observer would have to conclude that there was a massacre, as indicated by the large proportion of civilian casualties among villagers, lack of casualties among attackers and many other indications. They present their case dispassionately, without most of the rhetoric that often accompanies this issue, and without trying to make the case of Deir Yassin into a moral condemnation of Zionism. $10.00 US plus $3.50 shipping and handling.






<here to see what's NEW on the DYR web site

RELATED ITEMS & LINKS